Date posted: Sat, 21 Sep 2019
Posted by: Taner K
---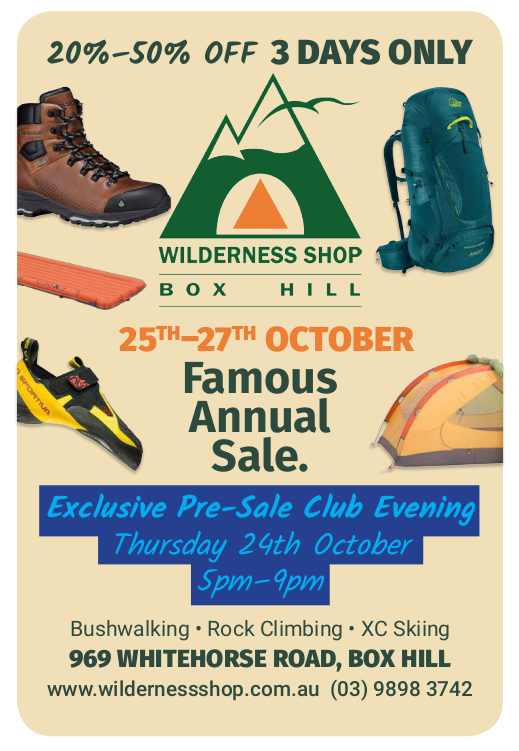 The Wilderness Shop Famous Annual Sale is scheduled for Friday 25th to Sunday 27th October 2019. (Yep, only three days!)
Members of outdoor clubs (and any friends or family wishing to attend) are invited to an exclusive PRE-SALE evening on:
Thursday 24th October from 5pm to 9pm.
Almost everything will be a minimum 20% OFF (normally 10% off for club members). In addition there will be hundreds of other specials at 30% to 50% OFF. (There are some exclusions, like electronics, etc.) It's a good time to get any gear you've had your eye on: we have a bunch of the best climbing and outdoor brands out there, many of which you can't find at many other stores. And with almost everything at 20% off, you can't really go wrong. Some stuff we don't have many pieces of, so if you're after something in particular, it's probably a good idea to come to the pre-sale night and get it then. (FYI not everything - by a long shot! - is on our website. Hundreds more items in the store.)
Also, a bit of history for you, if you didn't already know: the owner of The Wilderness Shop is a former OXO. So is the manager! (As well as me, while we're at it.)
Hope to see some you at the sale.
Cheers,
Chelsea

---
Back to list of announcements