Caving takes adventuring deep underground into a world of stalactites and stalagmites, formations that take thousands of years to form. Entering an often unassuming hole in the ground, you venture down with ropes and torches, often crawling and shoving yourself through tight tunnels to get to the exit. It's dirty work but incredibly rewarding as you explore a world most people have never seen before.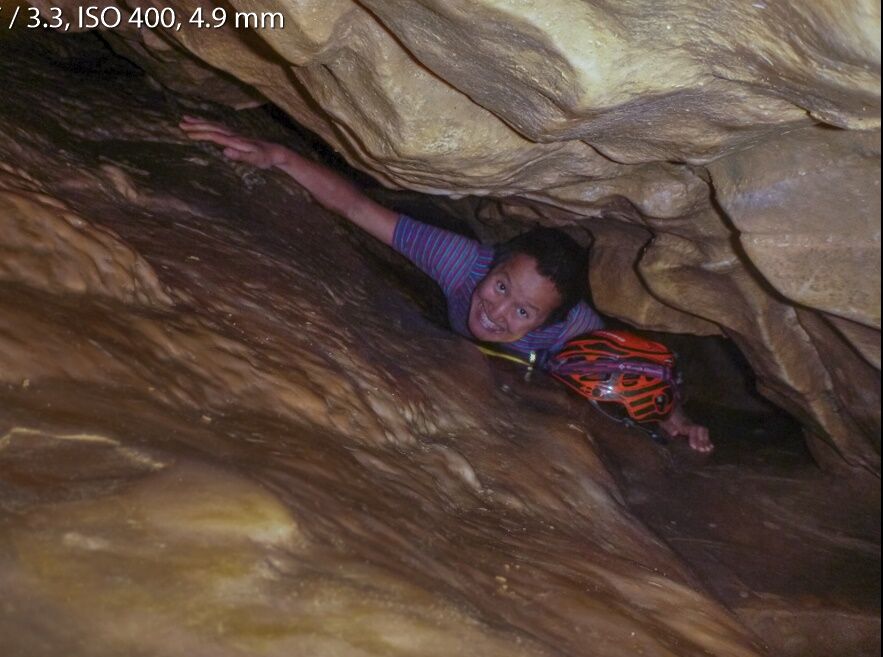 Lingshu squeezing through the Organ Grinder
Photo: Robert Springer
Caving in Victoria
There are a number of popular locations for caving in Victoria. Two locations you can typically expect to go with MUMC are Labertouche and Buchan. Labertouche is a single cave in granite and is normally run as a day trip from Melbourne. It is an excellent introduction to caving. Buchan is one of the more spectacular caving locations in Victoria, often run as a multi-day trip. 
Do I need training?
For our beginner trips, no prior experience is required and the club hires out most of the gear required. Then, as you build experience there are a number of caves that require more navigation and technical skills. Training sessions are run throughout the year to teach these skills and build confidence. There are plenty of unexplored caves all over the world, so there are endless possibilities if you find your passion for exploring in this unique environment. 
Our club publication - The Mountaineer - will also take you on an exploration through caves.
Past Caving Trips