The Club's gear stores can hire you almost anything you might need for any of our sports - we have an abundance of gear just waiting to get outside! As you go on more and more trips you'll become more experienced and can start thinking about accumulating your own equipment. Hire fees vary, but most items are $5-10 for a weekend.
Hire Rules
Gear hire is available to any member participating in a club trip, and these have priority over other trips. Gear can only be borrowed for non-club trips if the member has been on at least a couple of club trips beforehand. Gear is never available to hire for non-members. Gear store officers have the final say for what can be borrowed. 
Please note that we require a deposit paid in cash when borrowing gear (usually $50).  
Hiring of personal locator beacons (PLBs) or GPS are strongly encouraged for all remote trips.
Process
Come by the clubrooms to hire gear, ideally on a Tuesday during the club meetings. Alternatively, coming in outside of trip meetings may be possible by prior arrangement. Same goes for returning gear. Please treat gear with respect, and ensure that it is returned clean and dry. This is especially important for sleeping bags and tents.
Also check out our library for plenty of reading material and inspiration.
A non exhaustive list of the gear that may be available to hire:

Bushwalking
Tents (Car camping / hiking / snow)
Sleeping bags
Sleeping mats
Backpacks
Hardshell jacket/pants
Map
Compass 
Stove
Personal locator beacon (PLB)
Bothy Bag
First Aid Kit
Gaiters
Hiking Poles
Gear Hire Rates (note: a $50 cash deposit is required for bushwalking gear hire):  https://docs.google.com/document/d/1Xce-5DaGPlvCGs9Zm0ehNhKg1BqirrpGTFN45ONaV9U/edit?usp=sharing
Rock Climbing*

People hiring seconder kits and racks are responsible for returning all the items listed below. Please check that the set is complete before removing from the gear store.
Helmets are free with hire but require a deposit.
Miscellaneous protection may be hired for the rack fee (a donation would be appreciated though) and should be listed on the gear strip.
Shoe Hire - Donation is appreciated (Can be hired by everyone) 
Gym hire - $5 (Can be hired by everyone) 
Shoes 

Harness 

Locking carabiner
Seconding kit - $5 (Can be hired by Probationary Seconders and Seconders)

Belay device

Locking carabiner x3

Prusik

120cm Sling

Nut tool
Lead rope - $10 (Can be hired by people with Melbourne indoor Lead Passes)
Guidebooks - $2 (Can be hired by everyone)
Trad rack - $10 (can be hired by probationary lead climbers, ILCs and MCIs)
Rocks 1-10

10 other Wires

5 Camalots, sizes 0.3 to 3

8 Quickdraws


8 Extendable draws

Prusik (w locking carabiners)

2 Locking carabiners

2x 120cm Sling

7m Cordelette

Gear sling

Nut tool

Sport rack - $10 (can be hired by probationary sport lead climbers, ILCs and MCIs)

12 Quickdraws

120cm sling

2 Locking carabiners

Prusik
Misc Protection and items - $5 per item (unless being hired with a trad rack)
Large cams (BD Camalot 3.5, 4, and 5)
RP wires
Hexes
Extra nuts
Gri Gri ( you need to know how to use safely)
Belay devices
Hand Ascenders
Static Rope
Climbing Guide Books for most Victorian and some interstate locations
Instructional books (some are part of the library)
* You may need to be checked off as a seconder and/or a leader before hiring from the climbing gear store. See the MUMC Climbing System section of the Rock Climbing page for more information.

Canyoning and caving*
Helmets
Harnesses
Descending devices (figure eight devices, racks, ...)

Static ropes
Cow's tails (short lengths of dynamic rope used to clip into anchors and other things)

Prussiks (lengths of rope that are generally thinner than the rope you climb or abseil on)

Wetsuits (see Kayaking and Rafting)

Dry bags (see Kayaking and Rafting)
Canyoning and caving backpacks
Guide books for Blue Mountains, New Zealand canyoning
* As at late 2019, there are still changes being made to safety management procedures, therefore the hiring of canyoning and caving gear may be limited. For more information, see the Climbing Education Framework documents.

Paddling
The boat shed stores all our gear for our paddling activities: sea/touring kayaking, whitewater kayaking, rafting and canoe polo.
Paddling gear hire is available to club members for both club trips and personal hire. Gear hire and returns are generally available during the weekly club meeting on Tuesday evenings, unless otherwise agreed by the relevant deputy or Paddling Officer. Rates apply for the time the gear is away from the shed. Hire for club trips takes priority over personal trips. 
Deposit
A $50 deposit is required at the time of hire, which will be refunded when the gear is returned. In the event of damage or loss of gear due to negligence or misuse, or if gear is returned late, the deposit may not be refunded at the discretion of the deputy/officer. 
Club trip hire
For club trips, all paddling related gear needed for the relevant activity can be hired out for a flat rate of $15 per participant per day, or $20 per day for sea kayaking. For multiday trips where the total hire fee would surpass the weekly private hire rate, the weekly rate will apply. Gear hire for leaders is free for club trips.
Private hire

Gear can be hired out for private use by members at the discretion of the deputy/officer. Club trips take priority. The following weekly rates apply: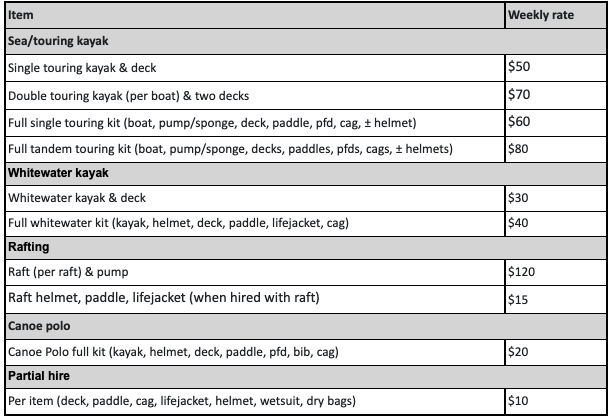 Gear hire is also available for pool sessions & canoe polo for $5 pp per half day. Contact Paddling Officer for seasonal hire options ($60 for a full canoe polo kit / $120 for a full whitewater kit per 3 months).

Snow sports
MUMC Snow-sports maintains a select range of alpine equipment for club members. This includes, but is not limited to:

Snow shoes
Telemark skis and boots

Skins
Gloves and ski goggles
Snow shovels
Please contact the snow-sports officer () for queries regarding other gear. Specialised technical equipment such as avalanche transceivers are also available at club discretion.

Payments must be made upfront and in cash alongside an additional $50 deposit. Items are to be returned the first Tuesday following the hire period unless explicit prior permission is granted by the snow-sports officer. Late returns may result in loss of deposit.

Mountaineering
Hire is at the discretion of the mountaineering officer and deputy. A $50 deposit is required for all hires.
Individual Items:
| | |
| --- | --- |
| Snow Stake | $20 |
| Ice Screw | $10 |
| Axe | $20 |
| Hammer | $20 |
| Crampons | $25 |
| Dry Rope | $80 |
| Guide Book | $10 |
A "full kit" can be hired for the season for $100. This includes:
1 or 2 Snow Stakes
2 Ice Screws
2 Ice Tools
Crampons