MUMC has an active core of enthusiastic mountaineers who travel far and wide to get their fix. The first step for many members seeking to expand their bushwalking and rock climbing horizons is a guided technical mountaineering course in the Southern Alps of New Zealand during the summer break. Traditionally small groups of members have coordinated trips that continue after the end of their course, climbing together independent of a guide.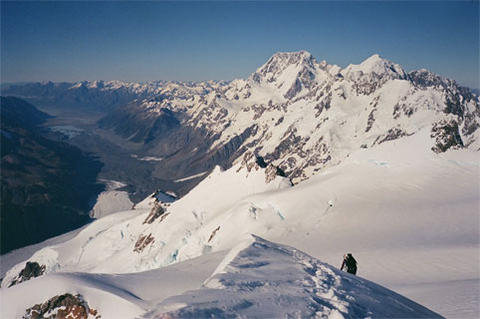 Alison summitting the Minarets with Mt. Cook and Mt. Tasman in the background.

Photo :
Lincoln Smith
Due to the high cost and complexity of organising a mountaineering trips, you cannot walk in to the club-rooms and simply sign up for one. New members are encouraged to join the club early, get in contact with members interested in mountaineering and be active in organising your own trip.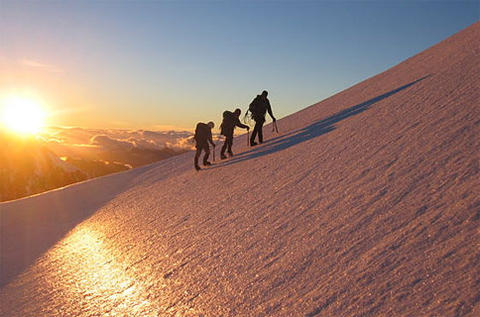 Sunrise on the Marcel Col.
Photo: Matthew Doyle
MUMC has a full range of mountaineering equipment for hire  including a variety of axes, hammers, snow-stakes, ice-screws, crampons and rock gear.
The club runs a wide number of activities to kick-start your preparation and training including bushwalking and rogaining to gain fitness and navigation skills, cross country skiing to build snow skills and rock climbing for general climbing fitness and rope handling strategies.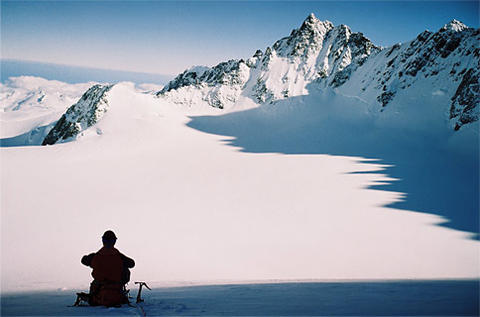 Fox Glacier, New Zealand.
Photo: Lincoln Smith
MUMC also runs Mountaineering-specific activities including the Alpine Instruction Weekend and an information night discussing costs, suitable equipment, and some of the technical background of mountaineering.
For more stunning photos of OXOs mountaineering, check out our club publication - The Mountaineer.

Past Mountaineering Trips