The purpose of mountaineering at MUMC is to introduce and encourage our members to enjoy climbing above the snowline. Mountaineering from Melbourne means planning and preparation to travel to the Snowy Mountains in NSW, the New Zealand Alps or even further afield - including the Himalaya!
We do not offer instruction in mountaineering, but if you previously have mountaineering experience, please read through our Mountaineering Framework.
MUMC looks to help mountaineers help train and plan for trips into the mountains. There is still plenty to do in between trips away to climb - including getting physically fit and ensuring equipment is prepared. Socailising and sharing our passion of adventure in the mountains is at the core of what we do.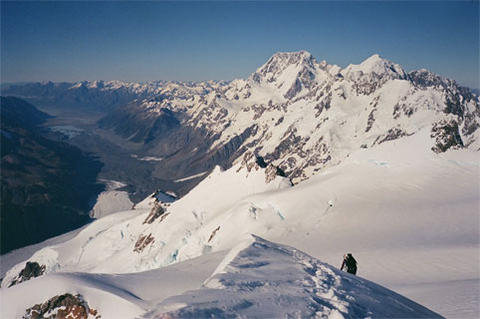 Alison summitting the Minarets with Mt. Cook and Mt. Tasman in the background.

Photo :
Lincoln Smith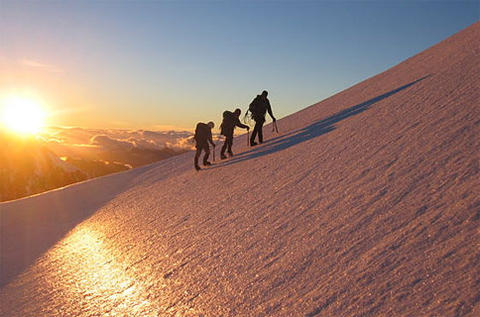 Sunrise on the Marcel Col.
Photo: Matthew Doyle
MUMC has a full range of mountaineering equipment for hire  including a variety of axes, hammers, snow-stakes, ice-screws, crampons and rock gear.
The club runs a wide number of activities to kick-start your preparation and training including bushwalking and rogaining to gain fitness and navigation skills, cross country skiing to build snow skills and rock climbing for general climbing fitness and rope handling strategies.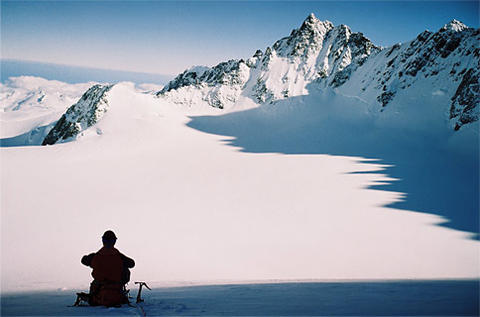 Fox Glacier, New Zealand.
Photo: Lincoln Smith
MUMC also runs an information night discussing costs, suitable equipment, and some of the technical background of mountaineering.
For more stunning photos of OXOs mountaineering, check out our club publication - The Mountaineer.
Any questions you have can be directed to the Mountaineering Officer,
Upcoming Mountaineering Trips
---
Past Mountaineering Trips