Bushwalking
Fri 27 - Tue 31 Jan 2023
Posted by Bernhard A on Mon, 14 Nov 2022
Leaders: Bernhard A, Molly F
Standard: Intermediate
Meeting: Tue, 22 Nov 2022, 7:15 pm

---
This is going to be a fun one! Lake Rhona is a super scenic alpine lake in southwest Tasmania that you can only get to by hiking. It's about one day's hike from the trailhead, so the plan is to spend the first day hiking to the lake, spend the second day chilling at the lake/doing side hikes, and spend the third day hiking back to the cars, with a day at the end to get back from Tassie. Initial meeting date is soon to confirm flights and logistics as early as possible.
This is the rough itinerary, subject to change as we figure out stuff:
January 28th
Fly from Melboure to Hobart early in the morning, pick up rental cars, drive to trailhead (~4 hour drive), hike 14km to the camping spot (including a river crossing and a lot of potential mud), camp at lake
January 29th
Chill at Lake Rhona/do the lake circuit trail
January 30th
Hike back to cars, drive to campsite
January 31st
Drive from campsite to Hobart airport, drop off cars, take a morning plane back to Melbourne
This is rated as an intermediate hike, as it is a grade 4 track through some very remote areas. To come on this trip, you need to have sufficient overnight hiking experience (at least two overnight hikes under the belt). If you're not sure, feel free to talk to me or Molly :)
The total cost of the trip will be between $280 - $315, including flights, car hire, petrol, and parks passes.
See a map of the trail below: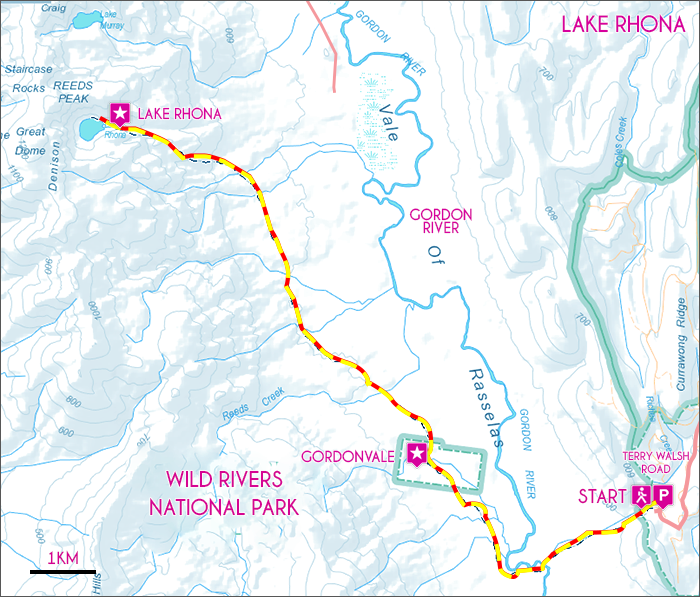 ---
Back to list of trips