Bushwalking
Sat 3 6:00am - Sun 4 Jun 2023 4:00pm
Posted by Luke S on Wed, 17 May 2023
Leaders: Luke S, Lindsay K
Standard: Intermediate
Meeting: Tue, 30 May 2023, 7:00 pm

---
Fancy a hike in the snow? This may be the trip for you!
This trip will be taking place on Taungurung country in the Victorian alpine region. The plan is to hike up from Telephone Box Junction to Mt Stirling and then on to Craig's Hut. We'll then head back down to Bluff Spur Memorial Hut where we'll spend the night. The following day we'll take the short hike back down to Telephone Box Junction and hopefully stop off in Mansfield for lunch on our way back to Melbourne. 
As we enter winter and this hike is in the alpine region, it is extremely likely that this
will be a very cold hike and conditions will be mixed with a fair chance of snowfall. All
participants must have previous overnight hiking experience and adequate gear for the
conditions, previous snow camping experience is preferred.
Participants will need appropriate rain/wet weather gear, warm clothing, and a winter
rated sleeping system (bag and mat). Most of these items can be hired from the
clubrooms on a Tuesday night.
Chain hire/fuel costs will be split between the group after the trip
Trip Plan:
Saturday (16km, 6-8 hours walking)
- Meet at clubrooms 6:00am
- Drive to Telephone Box Junction (3-4 hours)
- Hike up to Craig's Hut (9km, 3-4 hours)
- Hike back along to the Mt Stirling Summit (5km, 2-3 hours)
- Set up camp, prepare dinner, and socialise at Bluff Spur Memorial Hut
Sunday (4km, 2 hours walking)
- Return walk to Telephone Box Junction (4km, 1-2 hours)
- Drive back to clubrooms, approximate return time of 3-4pm (3-4 hours)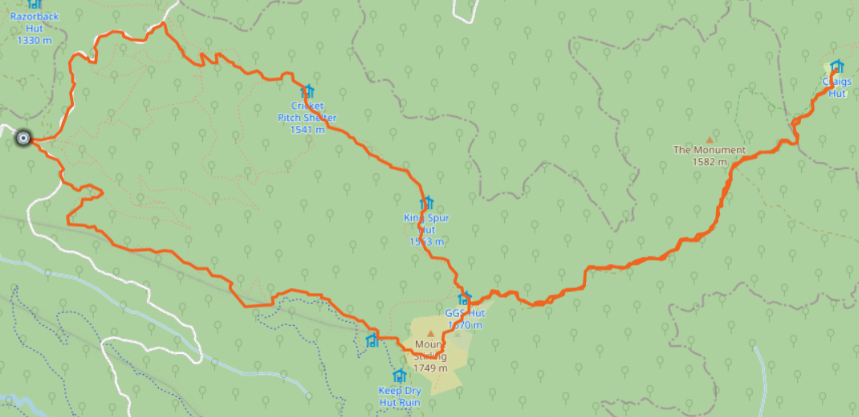 ---
Back to list of trips