XC Skiing
Mon 17 Jul 2023 6:00am - 8:00pm
Posted by Alicia C on Sat, 8 Jul 2023
Leaders: Alicia C, Bernhard A
Standard: Beginner
Meeting: Wed, 12 Jul 2023, 7:00 pm

---
Join Bernhard and I for some xc skiing adventures at Mt Stirling. A little bit of skiing experience would be great, but we will be able to take a couple of beginners so please include some information about your experience levels when you sign up.
Leaving from the clubrooms at 6am on Monday morning, we'll drive to Mt Stirling and leave our cars at Telephone Box Junction (each car will need to pay $53.50 for resort entry).
From here, we have a range of trails that we can take to explore the mountain area and get comfortable on xc skis. There are a lot of both green and more difficult blue trails, so depending on how the group is going we can adjust and adapt the routes we take.
Fingers crossed the weather and snow conditions will be good! Our backup plan is to: 1) Change the trip level to Intermediate if there is not enough snow on the beginner trails, or 2) Head to Lake Mountain and explore some of the fun trails around there instead. We will keep you updated.
PLEASE NOTE: The trip meeting will be on Wednesday 12th as neither of us can make it on Tuesday night. We will do gear hire then too.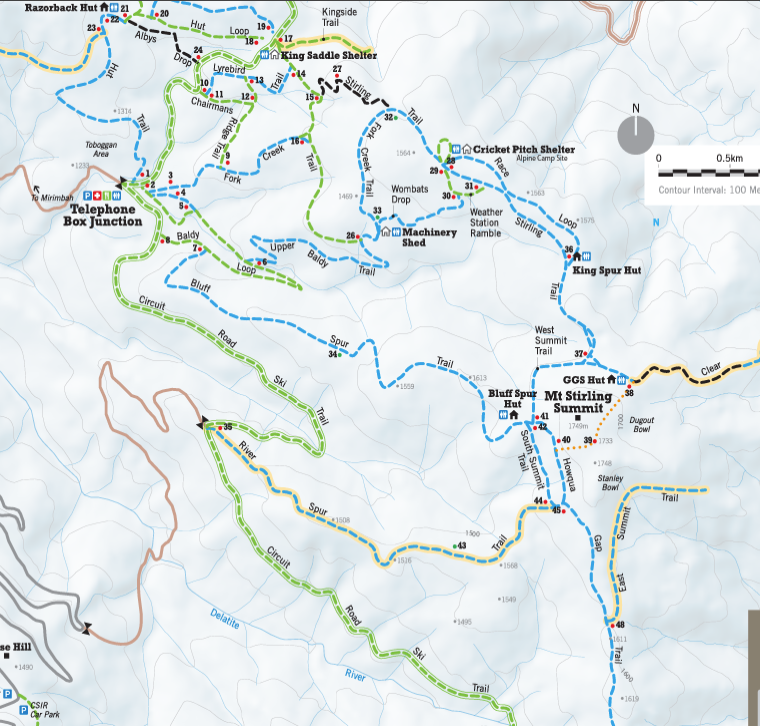 ---
Back to list of trips