Bushwalking
Wed 22 6:30am - Thu 23 Nov 2023
Posted by Riley C on Sat, 14 Oct 2023
Leaders: Riley C
Standard: Intermediate
Meeting: Tue, 14 Nov 2023, 12:00 am

---
This trip will be taking place on Jaithmathang country and I acknowledge the Jaithmathang First Peoples as the traditional owners and custodians of the land.
We will depart from the clubrooms around 6:30am on Wednesday and make our way through Bright to the Feathertop Track Car Park just outside of Harrietville. We will then start the steep ascent up Bungalow Spur and eventually arrive at Federation Hut, our campsite for the night.
After spending the night at Federation Hut we will summit Mt Feathertop in the morning before making our way back down Bungalow Spur and then back to the clubrooms late in the evening.
These will be two big days and expect to arrive back at the clubrooms after dark on Thursday.
Fuel costs will be split between the group after the trip.
The trip meeting will take place on the Tuesday the week before the hike (14/11/23) to allow people to organise gear and finalise the participant list.
Expected trip cost:
Transport: $50pp (approx)
Total: $50
Requirements:
A moderate level of fitness and multi-day hiking experience. You will need to be mostly self-sufficient in terms of gear, this can be hired from MUMC.
Trip Plan:
2 days/1 night
22km total
Wednesday (22/11/23)
Meet at clubrooms 6:30am
Drive to Feathertop Track Carpark (4 hours)
Hike up Bungalow Spur to Federation Hut (10km, 4-5 hours)
Thursday (23/11/23)
Summit Mt Feathertop, return to Federation Hut (2km, 2 hours)
Return to cars via Bungalow Spur (10km, 3 hours)
Drive back to clubrooms, approximate return time of 7pm (4 hours)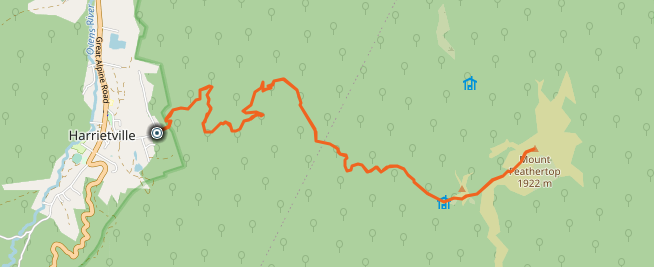 ---
Back to list of trips