The sport of rogaining has been variously described as competition bushwalking, cross-country navigation, orienteering on steroids, an Easter-egg hunt without eggs, on foot Rugged Outdoor Group Activity Involving Navigation and Endurance, a good excuse for a casual bushwalk and the most hardcore endurance sport ever.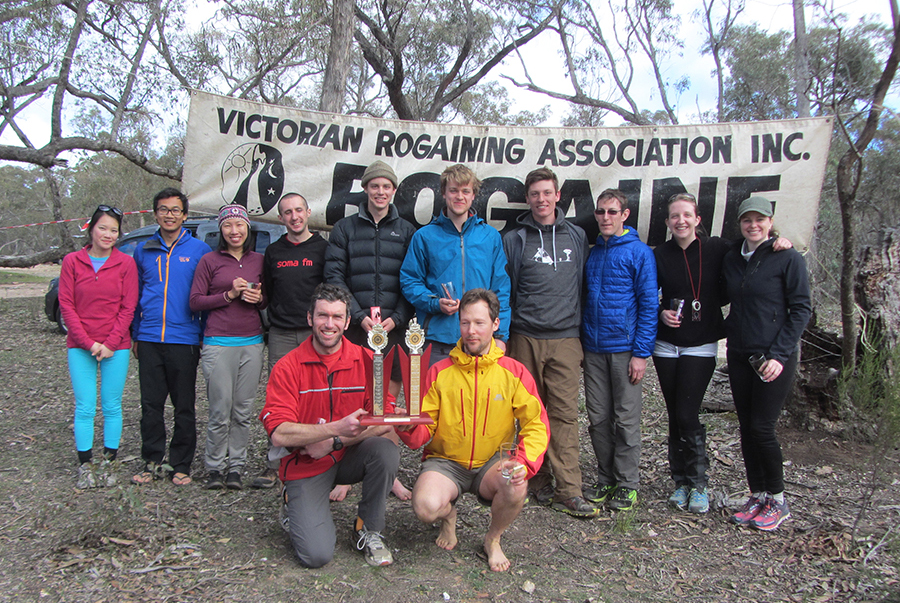 At the 24hr Victorian Rogaining championships
Each team of two to five members is provided with a map with checkpoints of varying distances and points values. You must then plan your route, attempting to navigate to as many as possible within a specified time limit. It is rare for a team to visit all checkpoints so the game is open ended. The total number of points at the end of the event determines team placings.
Events run from six to 24 hours long. Competitors usually walking or running but sometimes get around on bikes, canoes or skis. You can go as far and hard as you want, and after the event, there is always a great banquet of cheese toasties, hot soup and snags-in-bread.  
Rogaining is a great for training your navigation skills, developing trail-running endurance or just enjoying the outdoors and is enjoyed by members of all fitness levels.

Our very own MUMC had a hand in the invention of the sport. In 1947 MUMC started running an annual 24-hour walk. Then in 1976, some enterprising young MUMCers by the names of Rod, Gail and Neil Phillips - have you worked out where the name Rogaine comes from yet? - reshaped the sport into what we have today. Since then rogaining has grown, with hundreds of teams competing in each event, and has quickly spread across the world to become an international sport!
Read about people getting lost on their rogaines or tips on winning these competitions in the Mountaineer.
Upcoming Rogaining Trips
---
Past Rogaining Trips